With thanks to Rikki Valentine for the making of this video
---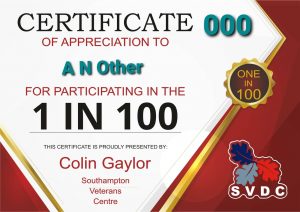 Could you be 1 in 100. We are looking for 100 people to raise £100 before 31st March 2022. This can be done in any way you like ( as long as it's legal lol ) Please get in touch if you would like to take up the challenge.
---
If you would like to setup a regular payment or pay us directly to our bank account.
Please contact us for our bank details.
You can do this by e-mail colin@southampton-veterans.co.uk